Crystal clear sound, precise and stable soundstage and a smooth adjustable in-room response.
The audio system is based on a unique combination of existing, new and old, technologies for better audio.
Current-drive amplification
Current-drive gives a very high output impedance for improving loudspeaker performance.
And gives high feedback for improving amplifier performance.
Direct driving the loudspeaker with current eliminates electrical influences and reduces distortion.
Active amplification
Every loudspeaker driver has its own amplifier.
No passive filters interfere with optimal control of the loudspeaker drivers.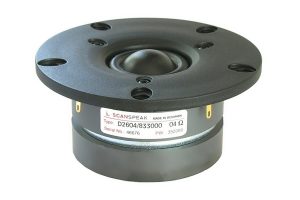 Top-tier loudspeaker drivers
The loudspeaker drivers are selected for low distortion, wide dispersion and excellent dynamics.
And for large displacement for very deep bass and lower crossovers.
Acoustic suspension
Acoustic suspension, relying on the trapped air, increases the linearity of the suspension of the driver and reduces distortion.
Active digital crossovers
With digital precision and high stability correcting the loudspeaker driver responses and time alignment, for perfect stitching together the loudspeaker drivers.
It widens the usable bandwidth of the drivers.
The loudspeaker drivers are perfectly aligned in terms of time and phase.
There is no phase difference between the loudspeaker drivers in the whole bandwidth.
Digital room correction
Improves the soundstage and bass response.
In combination with wide dispersion loudspeaker drivers it results in an optimal
in-room power response.
Resulting in
Crystal clear sound.
Precise and stable soundstage.
A smooth adjustable in-room response, with a deep punchy bass.